LIMAK Women and Career Stories
Expertinnen Talk - Part 1
Gelebte Diversität als Schlüssel zum Unternehmenserfolg – darauf wollen wir als LIMAK aufmerksam machen. Wir setzen unsere Serie der LIMAK Women and Career Stories fort und freuen uns besonders, dass unsere Interviewpartnerinnen in den Gesprächen auch Einblicke in ihren individuellen, beruflichen Lebensweg und Alltag gewähren. In zwei Blog-Beiträgen möchten wir diese Einblicke mit Ihnen teilen und freuen uns gemeinsam mit Ihnen auf spannende Werdegänge, persönliche Geschichten und Einblicke in den Arbeitsalltag unserer Interviewpartnerinnen.
RÜCKBLICK
Da wir den Woman and Career Day aufgrund der Corona-Pandemie die letzten zwei Jahre nicht durchführen konnten, möchten wir Ihnen dieses Jahr die Women and Career Stories als impulsgebendes Format präsentieren. Wir holen vier Frauen aus dem LIMAK Netzwerk vor die Kamera, die in unterschiedlichen Bereichen tätig sind und über ihre Rolle als Frau im Berufsleben berichten. Lassen Sie sich inspirieren von den offenen, emotionalen und ermutigenden Sichtweisen unserer Interviewpartnerinnen.
Expertinnen Talk mit
Univ.-Prof.in Dr.in Elke Schüßler
Univ.-Prof.in Dr.in Elke Schüßler ist akademische Leiterin des LIMAK Programmes Digital Transformation and Change Management und Professorin an der JKU, wo sie auch einen MBA nur für Frauen leitet. Im Gespräch mit Mag. Julia Stöger erzählt sie über Menschen und Erfahrungen, die sie geprägt haben, über den Einfluss von Erziehungszeiten auf den Karriereweg von Frauen und vor allem sehr persönlich über ihre eigene Karriereplanung und die Bedeutung von Frauen-Mentoring-Programmen.

"Ich habe besonders von Strukturen zur Frauenförderung profitiert und würde jeder Frau empfehlen, diese Strukturen auch zu nutzen."
Univ.-Prof.in. Dr.in Elke Schüßler
Expertinnen Talk mit
Dipl.-Ing.in Franziska Haizinger
Dipl.-Ing.in Franziska Haizinger ist aktuell LIMAK MBA Studierende und Marketing Managerin bei Tiger Coatings. Mag. Julia Stöger spricht mit ihr über die individuelle Bedeutung des Begriffs "Karriere", über ihren persönlichen Weg vom Chemie-Studium bis hin zum Bereich Marketing, über vorhandene und auch nicht vorhandene Unterschiede zwischen Frauen und Männern und den Blick auf den Menschen und seine Fähigkeiten.

"Ich möchte einer jungen Frau mitgeben, dass sie an ihren eigenen Weg glauben und Selbstvertrauen in sich haben soll. Man wird auch manchmal stolpern auf dem Weg. Aber das ist ganz normal und das ist auch ganz wichtig. Denn daraus lernt man."
Dipl.-Ing.in Franziska Haizinger
Wir bedanken uns herzlich bei unseren Interviewpartnerinnen: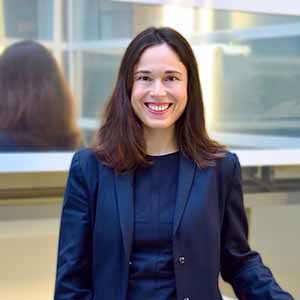 Univ.-Prof.in Dr.in Elke Schüßler
Akademische Leiterin des LIMAK MBA, MIM und Universitätslehrgangs Digital Transformation and Change Management
Dipl.-Ing.in Franziska Haizinger
Marketing B2C & 4 BUs x 4 Regions (G), TIGER Coatings GmbH & Co. KG
LIMAK MBA Studierende