LIMAK Women and Career Stories
Expertinnen Talk - Part 2
Gelebte Diversität als Schlüssel zum Unternehmenserfolg – darauf wollen wir als LIMAK aufmerksam machen. Wir setzen unsere Serie der LIMAK Women and Career Stories fort und freuen uns besonders, dass unsere Interviewpartnerinnen in den Gesprächen auch Einblicke in ihren individuellen, beruflichen Lebensweg und Alltag gewähren. Wir möchten diese Einblicke mit Ihnen teilen und freuen uns gemeinsam mit Ihnen auf spannende Werdegänge, persönliche Geschichten und Einblicke in den Arbeitsalltag unserer Interviewpartnerinnen.
RÜCKBLICK
Da wir den Woman and Career Day aufgrund der Corona-Pandemie die letzten zwei Jahre nicht durchführen konnten, möchten wir Ihnen dieses Jahr die Women and Career Stories als impulsgebendes Format präsentieren. Wir holen vier Frauen aus dem LIMAK Netzwerk vor die Kamera, die in unterschiedlichen Bereichen tätig sind und über ihre Rolle als Frau im Berufsleben berichten. Lassen Sie sich inspirieren von den offenen, emotionalen und ermutigenden Sichtweisen unserer Interviewpartnerinnen.
Expertinnen Talk mit
Stefanie Rosenstatter, BSc und Carina Andorfer-Sket, MSc
Stefanie Rosenstatter, BSc und Carina Andorfer-Sket, MSc zeichnen bei KTM für die Personalentwicklung verantwortlich. Im Interview geben sie Einblicke in die Rolle von diversen Teams in ihrem Unternehmen und sprechen über die Herausforderungen in der Karriere von Frauen und über ihre persönliche Definition von beruflichem Erfolg.

"Bei uns wird die Leistung, die Motivation, die Begeisterung und die Leidenschaft, die man für den Beruf mitbringt, in den Vordergrund gestellt. Da spielt das Geschlecht keine Rolle."
Carina Andorfer-Sket, MSc
Wir bedanken uns herzlich bei unseren Interviewpartnerinnen: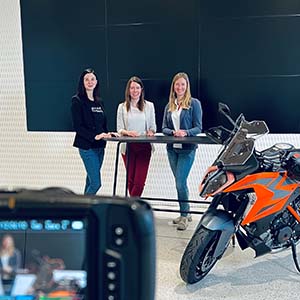 Stefanie Rosenstatter, BSc
Head of Training & Development, KTM
Kundin LIMAK IN.SPIRE Inhouse Führungskräfteentwicklung
Carina Andorfer-Sket, MSc
Training & Development Specialist, KTM
Kundin LIMAK IN.SPIRE Inhouse Führungskräfteentwicklung